Online Video Training FAQ
---
How does the training process work?

All of the online video training consists of pre-recorded videos. You watch them on your schedule, and the platform tracks your progress. It is very easy to always pick up where you left off.

Is there any type of support included?

Of course! Your membership includes direct access to the instructor via email. You can also participate in our active Matrix chat rooms for immediate feedback from other participants and the instructor.

What is the cost of the online training?

The training is currently priced at $649 for one year of access from the date of purchase. This price will increase for new subscribers as more content is added, but you can always renew at the price of your original purchase. We will never raise the price for existing members.

What is included with this annual fee?

The training fee includes access to all current and future training videos during your membership, a 600+ page PDF training manual, direct support, updated OSINT search tools, and all resources used throughout the training.

Will I have access to the material if I do not renew every year?

You will retain access to all of the latest manuals, software, and tools on the private member portal at IntelTechniques.com. However, an active paid account must be maintained to access support, updates, and all training videos on IntelTechniques.net.

How often are videos updated?

We provide video updates every month. These may include new topics or updated replacement videos. We keep the training relevant at all times.

Do I receive a certificate of completion?

Absolutely. At the end of your training, you will receive a certificate confirming you have completed all of the modules. With your explicit consent, we will confirm your certificate with third-parties (such as an employer).

Are there any free example videos?

Yes. Please watch a demo video HERE.

Where can I find the current course curriculum?

Please visit https://www.inteltechniques.net/courses/open-source-intelligence.

Is there a fee for the OSIP certification?

Yes. We offer an optional exam to become a certified IntelTechniques Open Source Intelligence Professional (OSIP) at a cost of $300. This is a one-time testing fee with no annual requirements. Expect to be challenged during testing! You will work directly with Jason throughout the certification process. With your explicit consent, we will confirm your certification with third-parties (such as an employer). More details about the OSIP certification program can be found at the following link.

IntelTechniques OSIP PDF

Is there a bulk license discount?

Yes. If you have multiple people who wish to participate in the online training, we offer the following bulk annual rates (per person).

1 User: $649
2-9 Users: $599
10+ Users: $549

I still have questions!

Contact us any time HERE.
Begin Online Training Today!
OSIP Certification
---
We now offer the official IntelTechniques Open Source Intelligence Professional certification program to all participants of the online video training. Click HERE to begin your training today.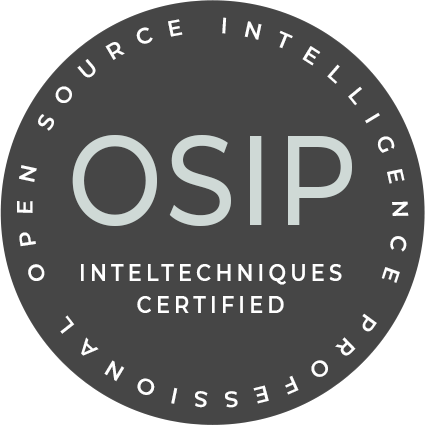 OSINT Guide
---
Our latest (2023 10th Edition) book on Open Source Intelligence (OSINT) is now available! Click HERE for details.

Privacy Guide
---
Our latest (2022 4th Edition) book on Extreme Privacy is now available. Click HERE for details.