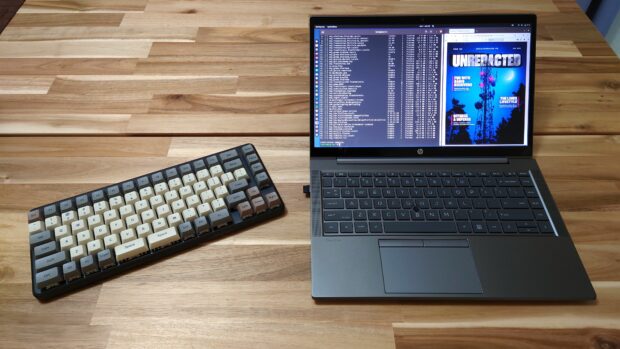 I typically avoid computer reviews. Everyone is unique and has their own needs. My favorite computers are those you can customize for your own usage, which may negate the need for a review in the first place. If you have been following along with my full-time transition to Linux Pop!_OS, you know that I rely on a System76 Thelio desktop for my daily computing. I chose a desktop because I work with 20TB of breach/leak/logger data daily and the desktop allows me to "turn off" better at the end of my work day. I chose a System76 desktop because it natively supports Pop!_OS and was designed with Linux users in mind. You can read much more about that in the previous issue.
After my article about Linux basics (Issue 002) and the corresponding podcast (264-Back to Basics-Linux I), many readers and listeners notified me that four of the six System76 laptops were now sold out. Several people were asking me for a recommendation of a solid laptop which supported Pop!_OS out of the box and was affordable. That can be a tall order.
I began my search and immediately noticed a trend with the popular laptop manufacturers. Lenovo offers two Linux-ready laptops, but both have issues. The processors are old, the software is outdated (Ubuntu 20.04), and the prices are high (> $2000). Dell does a bit better with multiple options, but all still come with Ubuntu 20.04. One could obviously install a newer version of Linux, but I was looking for something which would just work without any driver issues. The specs on the Dell options were much better than Lenovo, but the prices still seemed high. Then I found something I did not expect to see. HP just launched a new laptop in partnership with System76 which includes the latest Pop!_OS installed. I did a double take.
Since this was a brand-new machine, I knew I could not go to the local Best Buy to check it out. I contacted their media relationship office and requested a demo unit. It arrived today, and I am pleasantly surprised with it. Let's dive in.
This is a 14" laptop with an AMD Ryzen 7 processor at 4.4 GHz max (8 cores / 16 threads). 16GB of RAM is installed within two slots, and is replaceable. A 1TB NVMe drive has a max speed of 3,000 MB/s. The graphics are powered by integrated AMD. One should note that this is a 14" laptop with a max resolution of 1920 x 1080. If you are looking for Retina-like high resolution on a huge screen, this is not for you. The display may be a weak point, but I run my desktop at 1080p, so it was fine with me. I always prefer integrated graphics, especially within laptops, as they are more energy efficient, and therefore typically offer longer battery life.
Speaking of battery, the unit claims 12-hour usage between charges. My initial setup of applications and all configuration lasted nine hours, but that was under heavy load. The 12-hour average seems legitimate.
Both USB-A and USB-C ports are on the sides along with traditional HDMI. So far, this thing is checking all the boxes. However, the big deal is the price: $1099. I know one should never choose a laptop on price alone. However, this is a huge benefit. I am always looking for a slam-dunk when it comes to a pre-configured laptop I can recommend to clients. Let's compare to Lenovo and Dell. A Dell 13" XPS with similar specs is $1750. However, this includes only 8GB of RAM and outdated software. A similar ThinkPad was $1900 with Ubuntu 20.04. $1000 is a very attractive price for a powerful Linux machine, but let's discuss the unit itself.
The HP Dev One is targeted toward developers. They have recognized that there is a growing community of programmers who need reliable hardware running on Linux which does not need to buy the latest gaming laptop with flames on the side. However, I think this limited scope is excluding a larger crowd. This machine has specs which would work for any Linux transition.
The unit feels solid. One complaint I hear about niche privacy laptops is that they can have a very light "plasticky" feel. This does not have that. The size is great and the machine feels very slim and portable. The keyboard is firm and immediately usable. The screen is bright and clear. The embedded physical webcam cover is a nice touch. We are all spoiled today.
As I have stated in previous articles and podcasts, I rely on a laptop while on the road, which can be often. As I am traveling this week, I am solely using the HP Dev One. I immediately observed two things. First, now that I am using the new Thelio desktop, my four-year-old laptop feels dated and slow. Second, the HP Dev One laptop has almost the same overall experience as the faster desktop. Let's talk specs.
The processor and RAM are plenty fast. I don't think many readers would notice the difference between this and a faster processor, especially using Linux. Everything seems snappy and immediate. The 16GB of RAM is sufficient for most people. I was able to launch virtual machines fine, but loading three at once understandably caused some lag. I may swap out the two 8GB chips for two 16GB for a total of 32. Replaceable parts are nice.
Booting the machine presents the latest version of Pop!_OS. The only difference I saw was the option to send analytics. They made it very clear and easily offered the option to avoid this. They even allow you to see what a report would look like and the option to remove your own data from their servers at any time. I was impressed at the transparency and control. I understand the need to learn about any errors or crashes in order to make the product better, but I always choose to decline sending of any data due to my privacy paranoia.
Once booted, it was the typical Pop!_OS experience. You receive all updates directly from System76 and everything on the machine just works. It doesn't feel like a computer which was repurposed for Linux. It feels like a native Linux computer. It also feels very obvious that Pop!_OS recognizes this specific computer and hardware, which eliminates many headaches and presents a turn-key experience.
HP is also offering the System76 Launch keyboard and their own programmable mouse. I can see how both of these would be beneficial to developers, but I am not sure many readers would take advantage of a programmable keyboard and mouse. However, Pop!_OS includes a utility created by System76 to make the modifications easy. It is on my to-do list once I return home. I must admit that tapping the mechanical keys took me back to old-school keyboards before they eliminated key travel or felt "mushy". I look forward to playing with this.
I really like the "nub". This is the small rubber ball within the keyboard which can be used to control the cursor instead of the embedded trackpad. Both it and the pad feel smooth. No issues. It was a bit nostalgic to use the ball again. Everything feels premium.
I was invited to participate on a call with executives and developers from HP and System76. I jumped at the opportunity to learn more about this project. While they would not disclose too many behind-the-scenes details, I detected that more is to come. Typically, major manufacturers hide their Linux laptops within their store. HP created a separate domain just for this line. When asked about future partnerships with HP, System76 CEO Carl Richell bit his lip for now. My impression, based on his mannerisms, was that we are going to see more HP machines which cater to the Linux crowd, specifically those who use Pop!_OS. That is something we should all be excited about. It may spur more competition and convince others to make the switch.
I asked if Coreboot had been considered for the BIOS, and they said it had. However, there was not enough time to implement it before launch. I suspect we will see this in the future, and hopefully we will be allowed to flash our own BIOS if it surfaces.
My one petty complaint is the NVMe PCIe 3 drive. I would like to see an option for PCIe 4 drives which would double the speed. Don't get me wrong, the drive is blazing fast at 3000 MB/s, but I have been spoiled with my desktop's 7000 MB/s. To put this in perspective, the traditional spinning disk drives might get you 150 MB/s, a standard SATA SSD drive might see 500 MB/s, and my 2018 MacBook Pro reached an amazing 2500 MB/s. This thing beats all of them. Most people would not notice the difference between 3000 and 7000, unless they were modifying and querying large data sets all day or editing huge 4K videos. However, I must remember this is a $1000 machine. I can't have it all at that price.
The other things I would like to see are a MicroSD slot, ethernet port, and second SSD slot, but I realize those types of features are being eliminated in favor of a smaller footprint. Again, I remind myself this is only $1000 and 14".
Bottom Line: This may be the best $1000 laptop you will find which allows a powerful transition to Linux Pop!_OS. I don't miss Apple or Windows. Well, I miss the Apple Retina display, but not the telemetry. This thing is solid. I will report back once I have more real-world experience with it and the peripherals.
You can find more details at https://hpdevone.com. Currently, only US orders are allowed, but international options should appear soon. If you have a more specific hardware need or want to customize your own machine, I recommend visiting https://s76.co/System76Unredacted (System76 sponsor link).
HP sent me a demo review unit as a loan. They are not a sponsor of my magazine, blog, or podcast and did not pay for this review. HP had no influence on the review and gave no direction for my testing.